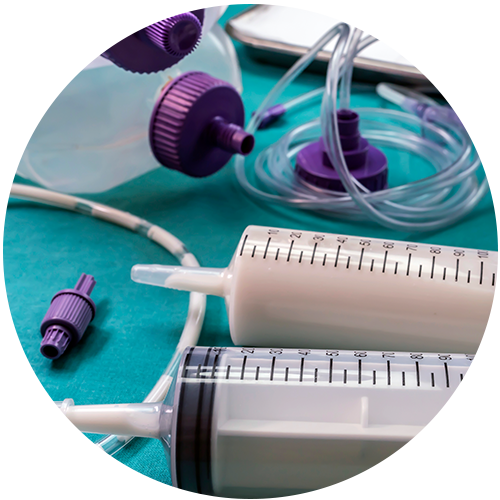 Our Feeding Program
If you live with a condition that impacts your ability to normally consume and digest food, your doctor may put you on an enteral feeding program to ensure you still get the nourishment you need. One of Life Support Systems' specialties is our enteral nutrition feeding program. Our staff is here to serve your nutrition needs. We understand the unique needs of enteral nutrition patients who require tube feeding. If you'd like to learn more about how we can help you, please don't hesitate to contact us.
Enteral Nutrition Supplies & Equipment
Whether it's the nutrition supplements or the bags and tubing required to deliver the nourishment, we have what you're looking for to meet your enteral nutrition needs. All our supplies are from trusted suppliers to ensure you receive high-quality nutrition and equipment. Our enteral nutrition supplies and equipment include:
Formula
Feeding bags
Tube kits
Nutrition shakes
Enteral pumps
Feeding adapter
Button replacements
Pediatric enteral supplies
Our Approach to Enteral Nutrition Feeding
People of all ages may need enteral feeding. Whether it's for you or a loved one, there are a lot of questions that come with enteral nutrition and tube feeding. Our staff is ready to answer your questions and help you find the right supplies to make sure all the nutrition needs are met. Our approach is based in faith and healing, and our primary focus is making sure you feel comfortable and have a positive experience with Life Support Systems. If you want to learn more about our program, our supplies or our equipment for enteral nutrition, please contact us.
Enteral Nutrition FAQs
What is enteral nutrition?

Enteral nutrition is a form of nutrition that is delivered into the digestive system in liquid form. Nutrition drinks, formulas, and tube feeding can all be forms of enteral nutrition.
Who receives enteral nutrition?

Individuals of all ages use feeding tubes. When someone has difficulty eating but their digestive system is still working, enteral nutrition can be used. Some examples could be individuals that have cancer, neurological problems, gastrointestinal problems, or trauma.
Are there different types of feeding tubes?

Yes, there are five different types of feeding tubes. The naso-gastric (NG-tube), the naso-jejunal (NJ-tube), the gastrostomy (G-tube), the jejunal (J-tube), and the gastro-jejunal (GJ-tube). All tubes require different methods of placement and can be for short-term or long-term purposes.
Do feeding tubes hurt?

Typically, right after your feeding tube is placed the site may be tender but after a few days there shouldn't be any pain!
Where are feeding tubes placed?

A feeding tube can be passed through the nose or passed through the skin on the abdomen. Both feeding tubes deliver liquid nutrition directly to the stomach or small intestine.
How should I clean a feeding tube?

It is important to make sure that your hands are clean and dry before cleaning a feeding tube, washing the site and skin around the tube with soap and warm water. Keeping the site clean and dry is important. You may also need to flush the tube as well; your doctor will teach you how to clean the tube properly depending on the type of tube.
Can I take showers and go swimming with a feeding tube?

Yes! Once the wound area is fully healed you can take baths, showers, and go swimming. You can protect your tube with a waterproof wound dressing.
What are signs that might mean there's a problem?

Redness or irritation around the stoma site, oozing, an overgrowth of skin, or any abnormal leakage are all signs there may be a problem. If any of these occur, it is important to contact your healthcare provider as soon as possible.
Am I able to live at home with a feeding tube?

Yes - although there will be many adjustments to your everyday life after starting enteral nutrition, you can still do your everyday activities. Be patient, finding your new normal at home takes time!
How can I support a loved one with a feeding tube?

Educating yourself can be the first step in understanding this new equipment and new routine in their life. Learning how to use the equipment properly, how to help clean the tube, and knowing what signs/symptoms of infection look like will help ensure that you can safely support your loved one. Your loved one may feel overwhelmed, so it is important to ask what they need emotionally too.
Do you offer cash rentals for enteral nutrition equipment and supplies?

No. Currently all rentals must be arranged and approved via your insurance provider. You view the full list of insurance providers we work with here.